25% OFF EITHER OR BOTH PROGRAMS!
HIDDEN THROWS & TAKEDOWNS from Karate Kata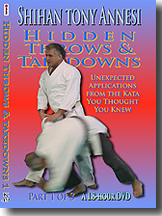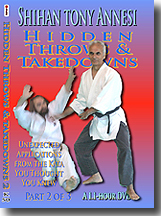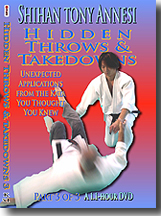 Have you ever wondered why your kata doesn't illustrate a logical throw or takedown follow-up to a well-illustrated block or blow? Could it be that it does, but you have never tilted your head in quite the right direction to see it? This 3 volume program takes familiar kata movements and shows them at a new angle, the angle of throws and takedowns. While you learn the applications, you will begin to understand the types of throws to look for and the principles by which they work!
3 DVDs or Downloads (4.4 hrs)
USE CODE HTT for 25% discount
GROUND DEFENSE
  • Know what to do if you are kneeling, sitting, or lying down as an attacker approaches. •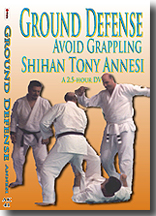 Understand your options if he decides to rush you. • Plan your escape even if he has you pinned down.
this program will prepare you for self-protection from many disadvantageous positions. Down is NOT OUT!
1 DVD or Download (2.5 hrs)
USE CODE GD for 25% discount
FOR Video SAMPLE or TO ORDER, DVD or Download, CLICK IMAGE
May 15th through June 30th